I am a fashion start-up consultant. I recommend my books to get started. They are available as eBooks, Print and on Audio.
Or, contact me for a free consultation.
Flat Seam Sewing Machines in Vietnam
To understand flat seam stiches we can compare it to cover stitches. This article over at
Fashion Incubator
does a great job of illustrating the difference. Basically cover stitches join to fabrics and the stitch is at a right angle to the face of the fabric. A flat seam stitch blends the two fabric edges together so that the stitch and the face of the fabric are not at a right angle to each other.
In Vietnam there are factories that have flat seam sewing machines and know how to produce tight fitting activewear. Is that what you are looking for? Are you just wanting to buy the machines for find a factory that has experience operators that can produce your garments with flat seam sewing machines?
I can help you contact them. Let's
schedule a Skype rendezvous
and dig deeper into the problem you are trying to solve.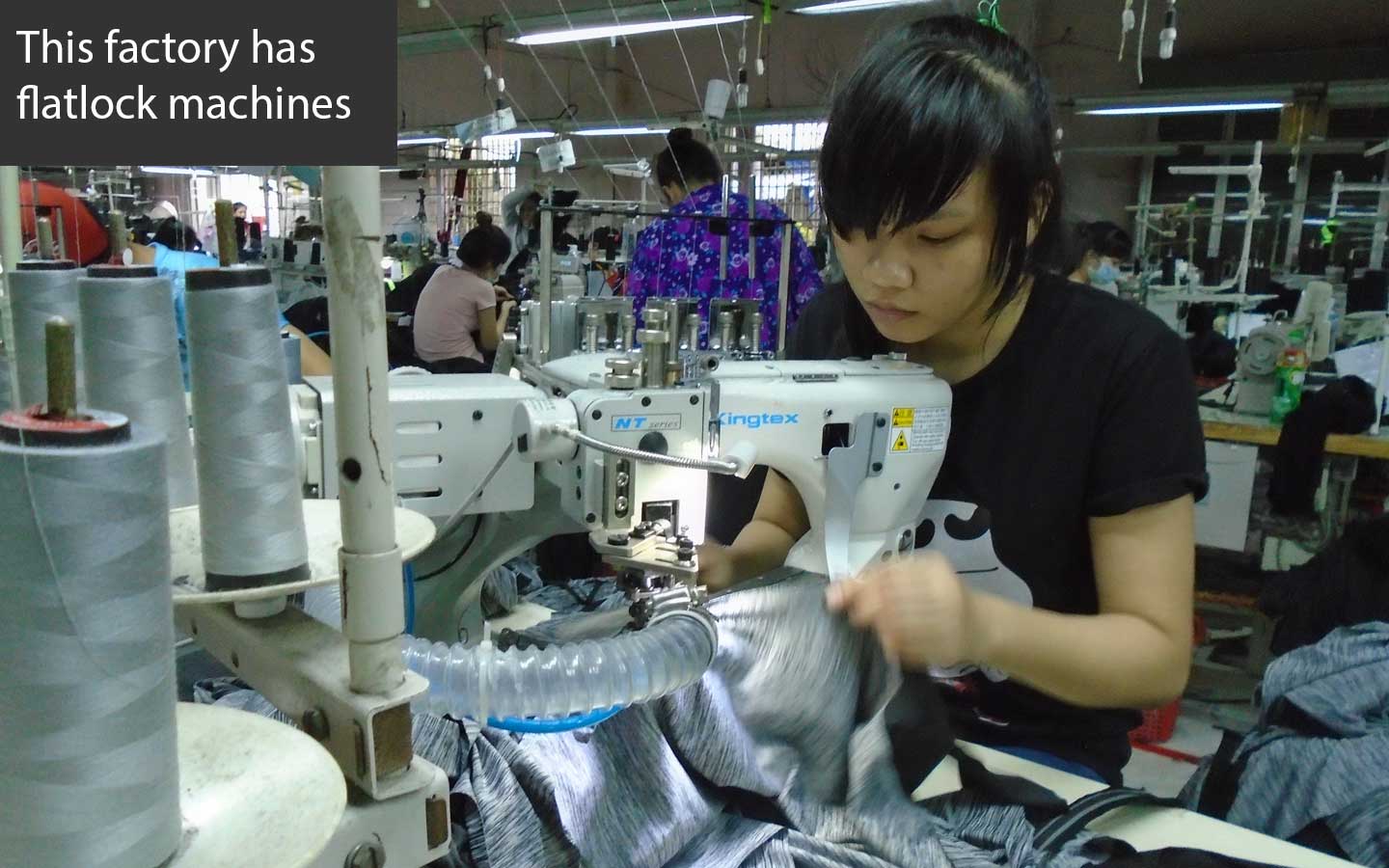 Why did you search for flat seam sewing in Vietnam?
Are you starting an activewear brand? Do you need to find a factory that produces quality sportswear?

Thai Son S.P sewing factory has 43 flat seam sewing machines. They are 4 needle 6 thread machines. Thai Sons sewers have experience sewing sportswear, fitness wear, activewear and yoga wear that fit snuggly against the skin. They have produced for companies like KAPPA, VOLKL and CRAFT. They can source any combination of fabric you need that contains polyester, cotton, viscose, spandex, or modal. They can offer fabric finished like moisture wicking or anti bacteria. Would you like to connect with a flat seaming factory in Vietnam. I can introduce you.

To give you a quote they will need a tech pack or physical sample.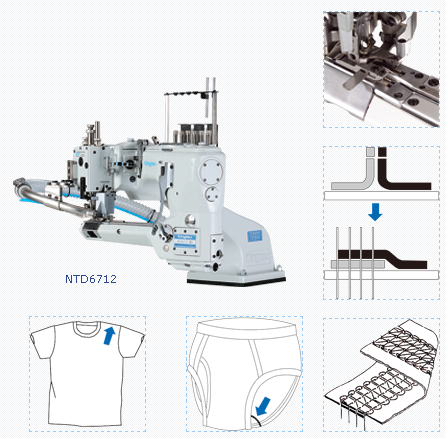 Video: I can help you produce your fashion brand in Vietnam
Alternative to flat seam sewing in Vietnam
Have you heard of heat seal seams before? They are an alternative to flat seaming. The first time I heard about it I thought it was seam sealing. It's not. Heat sealing is not about waterproofing. It is about sewing without thread. It is an outerwear seam that you can't pull apart with your own hands. It is a sportswear seam that is as smooth as a babies butt. The technology is not new. It has been around for 70 years; now it is entering the mainstream and it's only 11% more expensive than conventional sewing. Let's dig in and figure this trendy technology out. How can you use it to add a new twist to your marketing message?

I am sharing this with you because I know a reliable heat seal sewing factory in Vietnam that can offer full package heat sealing. They can produce garments for you brand with expensive technology at an affordable price. Will your customers appreciate something new?

Heat sealing is also known as fabric welding. It is the process of bonding pieces of fabrics using heat and pressure coupled with adhesive films or reinforcing tapes. There are two basic methods of heat sealing fabric together. One is a dielectric welder that can be described as a stationary fusing press. The other method is called rotary welding because it involves feeding both pieces of fabric into a continuous roller. There are many variations of heat sealing seams. In this article I am focusing on ultrasonic rotary method. The factory I want to tell you about uses ultrasonic vibrations to bond two pieces of fabric together.
Please give me details about your background and manufacturing objectives.

1. Which styles do you want to manufacture first?
2. Do you have tech packs?
3. Do you have any special factory requirements?
4. Have you produced before? If yes, then in what country?
5. What quantity per style per color do you order?
6. Does your company have a website?
7. Do you want to work with an agent or directly with the factory?
8. Do you plan to visit Vietnam?
Website by:

Chris Walker
Overseas Apparel Manufacturing Expert
Ho Chi Minh City, Vietnam
Author and Consultant
Consulting
Factory Introductions
Factory Visits
Quality Control
Hiring Staff
Setting up Rep Office
Accounting Service
Relocation
Visa Application
This is the default HTML.
You can replace it with your own.
Include your own code without the HTML, Head, or Body tags.