Hi, I am your go-to guy if you want to get things done in Vietnam. I prepare you to meet factories and introduce you to them. May I help you with sourcing textiles in Vietnam?
Sourcing textiles in Vietnam
I tell my clients that there are three entities you can approach when sourcing textiles in Vietnam. There are Taiwanese, Korean and Chinese mega suppliers offering quality fabric with a high price and in large quantities (high compared to what you would pay in China.) Then there are Vietnamese government textile manufacturers that produce basic fabrics but don't resale because the fabric is earmarked for their own garment production. Finally, there are small Vietnamese knitters, weavers and fabric dyers that have a few machines and are learning as they go. Price is ok but quality and consistency is wobbly at best.

What fabric are you sourcing? May I help you sourcing textile in Vietnam?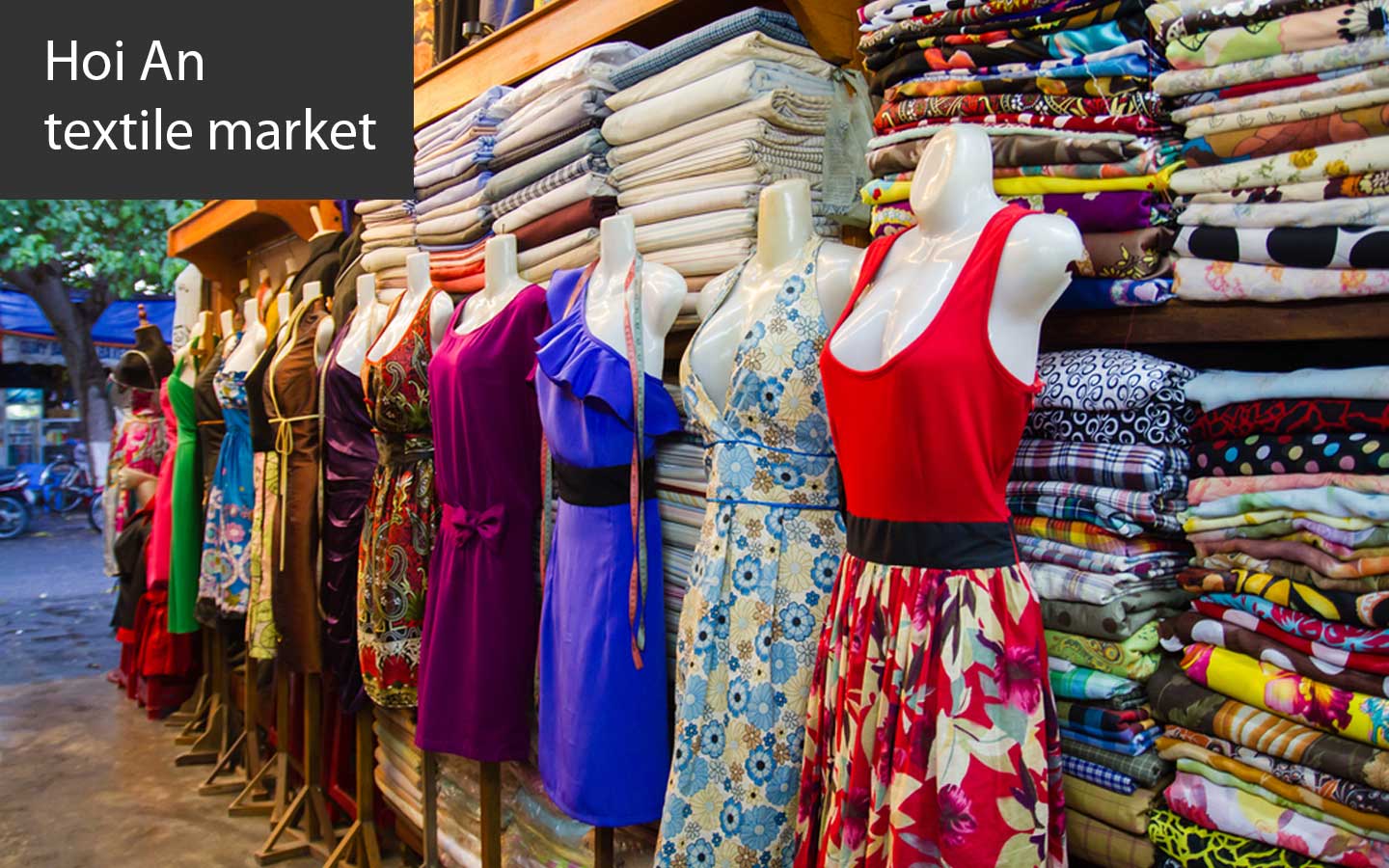 Why did you search for sourcing textiles in Vietnam?
Are you already producing garments in Vietnam and need new sources of fabric? Are you new to Vietnam and just want to know what the sourcing textiles in Vietnam landscape looks like? Either way I can help you. I have been working in the Vietnam garment industry since 2008 and visited the majority of fabric suppliers in Vietnam.

The picture you see here is me at the Tan Binh market. This market is full of fabric and accessories wholesalers. There is Cho Lon which also has many textile wholesalers.

Sourcing fabric in Vietnam is easy and hard at the same time. There is a lot of fabric made in Vietnam and wholesaled. Most of the fabric that is produced in Vietnam already has a buyer and you have to either line up or pay a high price to get fabric made from scratch to meet your exact specs. There are fabric wholesalers in every city that will sell to you by the yard but what you see is what you get and good luck re-ordering the same fabric.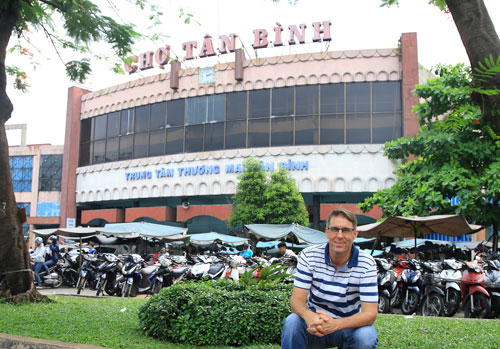 Basic knowledge you need before sourcing textiles in Vietnam
Textile fabric is the most important part of a garment and the factory will ask you many questions about your textile requirements. Be prepared to answer the following questions when sourcing textiles in Vietnam:

Are your garments made from woven or knit fabrics?
What is the fiber composition?
What is the color of the fabric?
What is the weight of the fabric?

Most factories produce woven or knit, not both.

Woven textile is made on a loom and does not stretch (unless it has spandex.) Examples of garments made with woven textile are: toga dress, blazer, wedding dress, dress shirt, jeans, and surf trunks.
Knit textile is made on a circular knit machine or flat knit machine. Examples of knitted textiles are: T-shirt, polo shirt, hoodie, sweater, beanie hat, and socks.

Boxers can be made with either woven or knit textile.
Cardigans can be made with either woven or knit textile.
Pencil dresses can be made with either woven or knit textile.
Pajamas can be made with either woven or knit textile.

Fiber composition needs to be specified. If you say I want polyester or I want cotton, then the factory will know you are a beginner. There are many variations of polyester and cotton. Read my book to learn more.

When sourcing textiles in Vietnam it's critical to present yourself as if you know what you are talking about so you are not taken advantage of.
List of Textiles Made in Vietnam
| | | |
| --- | --- | --- |
| Circular Knit Fabric Descriptions | Weight (gsm) | Thai Son S.P Sewing Factory Code |
| !French Terry 3304A Polyester/Cotton/Mouse | ~ 250 gsm | TS-PTV 325 |
| !Hot Space 0112L MVS 62%Polyester 33%Rayon 5%Spandex | ~ 220 gsm | TS-PTV 268 |
| !Single Jersey 100%Cotton Organic Melange | ~ 170 gsm | TS-PTV 305 |
| !Single Jersey 63%Bamboo 27%Organic Cotton 10%Spandex | ~ 220 gsm | TS-PTV 349 |
| !Single Jersey 70%Bamboo 30%Organic Cotton | ~ 170 gsm | TS-PTV 348 |
| !Single Jersey 92%Polyester 3%Mouse 5%Spandex | ~ 200 gsm | TS-PTV 301 |
| !Single Jersey Crinkled Stripes Rayon/Polyester/Spandex | ~ 155 gsm | TS-PTV 329 |
| !Single Jersey JQD Stripes 70%Cotton Slub 25%Polyester 5%Spandex | ~ 175 gsm | TS-PTV 347 |
| !Waffle 100%Cotton Organic | ~ 310 gsm | TS-PTV 344 |
| !Waffle Rib Brushed 62%Polyester 35%Rayon 3%Spandex | ~ 230 gsm | TS-PTV 294 |
| Double Face 67%Rayon 28%Polyester 5%Spandex | ~ 295 gsm | TS-PTV 278 |
| Flace IB 90%Polyester 10%Rayon | ~ 240 gsm | TS-PTV 338 |
| French Terry (3 threads) Cotton/Polyester | ~ 220 gsm | TS-PTV 204 |
| French Terry (3 threads) Cotton/Polyester | ~ 210 gsm | TS-PTV 205 |
| French Terry (3 threads) Slub Cotton/Polyester | ~ 270 gsm | TS-PTV 202 |
| French Terry 3301 Polyester/Rayon/Cotton | ~ 230 gsm | TS-PTV 326 |
| French Terry 3301HP Cotton/Polyester/Rayon | ~ 305 gsm | TS-PTV 321 |
| French Terry 3301HP Polyester/Cotton | ~ 260 gsm | TS-PTV 316 |
| French Terry 3302 Polyester/Cotton/Rayon | ~ 220 gsm | TS-PTV 318 |
| French Terry 3302 Polyester/Cotton/Rayon | ~ 240 gsm | TS-PTV 319 |
| French Terry 3302 Polyester/Rayon/Cotton | ~ 235 gsm | TS-PTV 327 |
| French Terry 3302HP Cotton/Rayon/Polyester | ~ 260 gsm | TS-PTV 320 |
| French Terry 3302HP Polyester/Cotton | ~ 195 gsm | TS-PTV 317 |
| French Terry 3304 Polyester/Cotton/Mouse | ~ 215 gsm | TS-PTV 323 |
| French Terry 3305HP Cotton/Rayon/Polyester | ~ 320 gsm | TS-PTV 322 |
| French Terry 3305HP Rayon/Polyester/Cotton | ~ 260 gsm | TS-PTV 315 |
| French Terry 54%Polyester 40%Cotton 6%Spandex | ~ 200 gsm | TS-PTV 143 |
| French Terry 54%Polyester 40%Cotton 6%Spandex | ~ 220 gsm | TS-PTV 143A |
| French Terry 60%Polyester 40%Cotton | ~ 300 gsm | TS-PTV 183 |
| French Terry 65%Polyester 35%Cotton | ~ 300 gsm | TS-PTV 86 |
| French Terry 65%Polyester 35%Rayon | ~ 190 gsm | TS-PTV 215 |
| French Terry big Stripes 95%Rayon 5%Spandex | ~ 265 gsm | TS-PTV 293 |
| French Terry IB 100%Cotton Melange BC07 | ~ 260 gsm | TS-PTV 335 |
| French Terry IB Polyester/Rayon | ~ 230 gsm | TS-PTV 314 |
| French Terry IB Stripes 55%Cotton 45%Polyester | ~ 300 gsm | TS-PTV 333 |
| French Terry Inside Brushed 65%Polyester 35%Cotton | ~ 240 gsm | TS-PTV 147 |
| French Terry Pattern 307796 58%Cotton 37%Polyester 5%Spandex | ~ 250 gsm | TS-PTV 312 |
| French Terry SI15 Cotton/Polyester | ~ 220 gsm | TS-PTV 324 |
| French Terry Siro Stripes 55%Polyester 45%Cotton | ~ 200 gsm | TS-PTV 307 |
| French Terry Siro TC 62%Polyester 33%Cotton 5%Spandex | ~ 250 gsm | TS-PTV 273 |
| French Terry Slub 100%Cotton | ~ 230 gsm | TS-PTV 285 |
| French Terry Slub 50%Rayon 45%Polyester 5%Spandex | ~ 185 gsm | TS-PTV 298 |
| French Terry Slub 60%Cotton 40%Polyester | ~ 220 gsm | TS-PTV 214 |
| French Terry Slub 70%Cotton 30%Polyester | ~ 235 gsm | TS-PTV 286 |
| French Terry Stripes 50%Cotton 50%Polyester | ~ 200 gsm | TS-PTV 92A |
| French Terry Stripes 80%Cotton 20%Polyester | ~ 200 gsm | TS-PTV 92 |
| French Terry Stripes 65%Rayon 20%Polyester 15%Cotton | ~ 210 gsm | TS-PTV 309 |
| French Terry Stripes 95%Rayon 5%Spandex | ~ 265 gsm | TS-PTV 292 |
| French Terry Stripes 95%Rayon 5%Spandex | ~ 255 gsm | TS-PTV 308 |
| French Terry Stripes Melange 95%Rayon 5%Spandex | ~ 270 gsm | TS-PTV 288 |
| French Terry Stripes Siro 55%Cotton 40%Polyester 5%Spandex | ~ 225 gsm | TS-PTV 336 |
| HACCI Slub 50%Rayon 50%Polyester | ~ 140 gsm | TS-PTV 302 |
| Heavy Hot Slub 56%Cotton 39%Polyester 5%Spandex | ~ 300 gsm | TS-PTV 181 |
| Heavy Hot TR 70%Polyester 25%Rayon 5%Spandex | ~ 240 gsm | TS-PTV 199 |
| Heavy Knitted Jean 53%Cotton 40%Polyester 7%Spandex | ~ 420 gsm | TS-PTV 193 |
| Heavy Pique 65%Polyester 35%Cotton | ~ 220 gsm | TS-PTV 82 |
| Hot Rayon 95%Rayon 5%Spandex | ~ 150 gsm | TS-PTV 257 |
| Hot Siro 48%Cotton 47%Polyester 5%Spandex | ~ 200 gsm | TS-PTV 334 |
| Hot Slub 95%Cotton 5%Spandex | ~ 185 gsm | TS-PTV 238 |
| Hot TR 60%Polyester 35%Rayon 5%Spandex | ~ 190 gsm | TS-PTV 79 |
| Hot TR 62%Polyester 33%Rayon 5%Spandex | ~ 190 gsm | TS-PTV 98 |
| Hot TR big Stripes 62%Polyester 33%Rayon 5%Spandex | ~ 200 gsm | TS-PTV 196 |
| Hot TR Melange Stripes 62%Polyester 33%Rayon 5%Spandex | ~ 190 gsm | TS-PTV 102 |
| Hot TR Slub 48%Rayon 47%Polyester 5%Spandex | ~ 155 gsm | TS-PTV 256 |
| Hot TR Stripes 50%Polyester 45%Rayon 5%Spandex | ~ 190 gsm | TS-PTV 79A |
| Interlock 100% PIMA Cotton CM40s | ~ 180 gsm | TS-PTV 274 |
| Interlock 100%Cotton | ~ 200 gsm | TS-PTV 66 |
| Interlock 100%Polyester with printing | ~ 150 gsm | TS-PTV 228 |
| Interlock 2Faces Stripes Polyester/Cotton | ~ 170 gsm | TS-PTV 330 |
| Interlock 95%Rayon 5%Spandex | ~ 355 gsm | TS-PTV 264 |
| Interlock Melange H150AB 60%Cotton 40%Polyester | ~ 255 gsm | TS-PTV 258 |
| Interlock Stripes (Double Face) 80%Polyester 20%Cotton | ~ 230 gsm | TS-PTV 175 |
| Jacquard 02 80%Polyester 15%Cotton 5%Spandex | ~ 280 gsm | TS-PTV 340 |
| Jacquard 47%Cotton 46%Polyester 7%Spandex | ~ 200 gsm | TS-PTV 242 |
| Jacquard Diamond 65%Polyester 35%Rayon | ~ 290 gsm | TS-PTV 201 |
| Jacquard JQD 1003 85%Polyester 13%Rayon 2%Spandex | ~ 270 gsm | TS-PTV 287 |
| Jacquard Oval Polyester/Spandex | ~ 210 gsm | TS-PTV 212 |
| Jacquard Rose 95%Polyester 5%Spandex | ~ 290 gsm | TS-PTV 200 |
| Jacquard W 60%Polyester 35%Cotton 5%Spandex | ~ 320 gsm | TS-PTV 162 |
| Jacquard Wave Polyester/Spandex | ~ 220 gsm | TS-PTV 211 |
| Knitted Denim 73%Viscose 22%Polyester 5%Spandex | ~ 210 gsm | TS-PTV 96 |
| Knitted Denim Stripes 100%Cotton | ~ 240 gsm | TS-PTV 167 |
| Knitted Jean 53%Cotton 40%Polyester 7%Spandex | ~ 340 gsm | TS-PTV 186 |
| Pique 100%Cotton | ~ 180 gsm | TS-PTV 50 |
| Pique 100%Polyester | ~ 155 gsm | TS-PTV 241 |
| Pique 100%Polyester | ~ 225 gsm | TS-PTV 272 |
| Pique big Stripes 100%Cotton | ~ 150 gsm | TS-PTV 152 |
| Pique Checkered Jacquard 62%Polyester 33%Cotton 5%Spandex | ~ 210 gsm | TS-PTV 184 |
| Pique Jacquard 83%Cotton 14%Polyester 3%Spandex | ~ 180 gsm | TS-PTV 146 |
| Pique Jacquard 95%Polyester 5%Spandex | ~ 170 gsm | TS-PTV 223 |
| Pique Slub 50%Cotton 50%Polyester Slub | ~ 145 gsm | TS-PTV 303 |
| Polyester Cycling Jersey 100%Polyester | ~ 150 gsm | TS-PTV 156 |
| Polyester Drytech 100%Polyester | ~ 160 gsm | TS-PTV 157 |
| Polyester Super Dry 100%Polyester | ~ 145 gsm | TS-PTV 155 |
| Ponte Roma 60%Rayon 35%Polyester 5%Spandex | ~ 250 gsm | TS-PTV 187 |
| Ponte Roma 95%Polyester 5%Spandex | ~ 290 gsm | TS-PTV 262 |
| Ponte Roma Rayon/Nylon/Spandex | ~ 390 gsm | TS-PTV 134 |
| Ponte Roma Slub 60%Cotton 35%Polyester 5%Spandex | ~ 255 gsm | TS-PTV 311 |
| Ponte Roma Stripes 94%Polyester 1%Rayon 5%Spandex | ~ 390 gsm | TS-PTV 290 |
| Ponte Roma Stripes CVC Cotton/Polyester/Spandex | ~ 280 gsm | TS-PTV 110B |
| Ponte Roma Stripes Rayon/Polyester/Spandex | ~ 270 gsm | TS-PTV 331 |
| Ponte Roma Stripes Viscose/Polyester/Spandex | ~ 280 gsm | TS-PTV 110A |
| Rib 1x1 60%Cotton 40%Modal | ~ 220 gsm | TS-PTV 261 |
| Rib 1x1 65%Polyester 35%Rayon | ~ 190 gsm | TS-PTV 243 |
| Rib 1x1 CVC 60%Cotton 40%Polyester | ~ 240 gsm | TS-PTV 56 |
| Rib 1x1 Stripes 50%Cotton 50%Polyester | ~ 190 gsm | TS-PTV 29A |
| Rib 2x1 Siro TC 47%Polyester 48%Cotton 5%Spandex | ~ 260 gsm | TS-PTV 269 |
| Rib 2x1 Stripes 50%Cotton 50%Polyester | ~ 170 gsm | TS-PTV 138 |
| Rib 2x2 48%Rayon 47%Polyester 5%Spandex | ~ 340 gsm | TS-PTV 259 |
| Rib 5x2 62%Polyester 33%Rayon 5%Spandex | ~ 210 gsm | TS-PTV 252 |
| Rib 5x3 Stripes Rayon/Polyester/Spandex | ~ 270 gsm | TS-PTV 332 |
| Rib 6x3 65%Polyester 35%Rayon | ~ 310 gsm | TS-PTV 101 |
| Rib 6x4 (Melange 2275) 62%Polyester 33%Rayon 5%Spandex | ~ 170 gsm | TS-PTV 255A |
| Rib 6x4 48%Rayon 47%Polyester 5%Spandex | ~ 260 gsm | TS-PTV 254 |
| Single Jeresey 100%Cotton | ~ 160 gsm | TS-PTV 54 |
| Single Jeresey 100%Cotton Peach | ~ 185 gsm | TS-PTV 80 |
| Single Jeresey 100%Cotton Slub | ~ 170 gsm | TS-PTV 12A |
| Single Jeresey 50%Cotton 50%Viscose | ~ 140 gsm | TS-PTV 07 |
| Single Jeresey 95%Cotton 5%Spandex | ~ 160 gsm | TS-PTV01 |
| Single Jeresey 95%Cotton 5%Spandex | ~ 220 gsm | TS-PTV 03 |
| Single Jeresey 95%Cotton 5%Spandex | ~ 230 gsm | TS-PTV 77 |
| Single Jeresey 95%Cotton 5%Spandex (Inside Brushed) | ~ 200 gsm | TS-PTV 38A |
| Single Jeresey 95%Viscose 5%Spandex | ~ 160 gsm | TS-PTV 37 |
| Single Jeresey 95%Viscose MVS 5%Spandex | ~ 180 gsm | TS-PTV 84A |
| Single Jeresey 95%Viscose OE 5%Spandex | ~ 230 gsm | TS-PTV 83A |
| Single Jersey 85%Polyester 15%Linen | ~ 120 gsm | TS-PTV 275 |
| Single Jersey 90%Polyester 10%Spandex | ~ 165 gsm | TS-PTV 267 |
| Single Jersey 94%Viscose 40s 6%Spandex | ~ 195 gsm | TS-PTV 271 |
| Single Jersey 95% PIMA Cotton 5%Spandex | ~ 190 gsm | TS-PTV 270 |
| Single Jersey 95%BamBoo 5%Spandex | ~ 180 gsm | TS-PTV 276 |
| Single Jersey 95%Rayon 5%Spandex Black | ~ 180 gsm | TS-PTV 310 |
| Single Jersey SPG 2003 50%Cotton 50%Polyester | ~ 140 gsm | TS-PTV 277 |
| Single Jersey (Heather Grey) 62%Polyester 33%Rayon 5%Spandex | ~ 180-200 gsm | TS-PTV 180 |
| Single Jersey (Reactive Printing) 95%Cotton 5%Spandex | ~ 160 gsm | TS-PTV 169 |
| Single Jersey (Reactive Printing) 95%Viscose 5%Spandex | ~ 180 gsm | TS-PTV 168 |
| Single Jersey (Silicon washing) 100%Cotton | ~ 270 gsm | TS-PTV 233 |
| Single Jersey 100%Cotton 40/2 | ~ 230 gsm | TS-PTV 229 |
| Single Jersey 100%Cotton Organic | ~ 155 gsm | TS-PTV 296 |
| Single Jersey 100%Cotton Organic | ~ 170 gsm | TS-PTV 304 |
| Single Jersey 100%Cotton Slub CM20s | ~ 135 gsm | TS-PTV 263 |
| Single Jersey 100%Cotton Slub CM26s | ~ 140 gsm | TS-PTV 263A |
| Single Jersey 100%Polyester | ~ 160 gsm | TS-PTV 85 |
| Single Jersey 100%Polyester (with Antistatic Treatment & Quick Drying) | ~ 85 gsm | TS-PTV 237 |
| Single Jersey 53%Cotton 40%Polyester 2%Rayon 5%Spandex | ~ 190 gsm | TS-PTV 289 |
| Single Jersey 57%Cotton 38%Modal 5%Spandex | ~ 180-190 gsm | TS-PTV 260 |
| Single Jersey 60%Cotton 40%Polyester | ~ 160 gsm | TS-PTV 197 |
| Single Jersey 60%Cotton 40%Polyester (EL) | ~ 160 gsm | TS-PTV 291 |
| Single Jersey 62%Polyester 33%Rayon 5%Spandex | ~ 160 gsm | TS-PTV 74 |
| Single Jersey 65%Polyester 35%Cotton | ~ 160 gsm | TS-PTV 105 |
| Single Jersey 65%Polyester 35%Cotton | ~ 160 gsm | TS-PTV 109 |
| Single Jersey 65%Polyester 35%Rayon | ~ 140 gsm | TS-PTV 209 |
| Single Jersey 80%Cotton 20%Spandex | ~ 250 gsm | TS-PTV 235 |
| Single Jersey 80%Viscose 20%Spandex | ~ 270 gsm | TS-PTV 236 |
| Single Jersey 85%Polyester 10%Rayon 5%Spandex | ~ 160 gsm | TS-PTV 282 |
| Single Jersey 90%Polyester 10%Spandex | ~ 210 gsm | TS-PTV 154 |
| Single Jersey 92%Cotton 8%Spandex | ~ 210 gsm | TS-PTV 343 |
| Single Jersey 92%Cotton 8%Spandex (With Hair-Removed) | ~ 250 gsm | TS-PTV 218 |
| Single Jersey 92%Cotton 8%Spandex (With Hair-Removed) | ~ 220 gsm | TS-PTV 220 |
| Single Jersey 92%Rayon MVS 8%Spandex | ~ 210 gsm | TS-PTV 240 |
| Single Jersey 95%Cotton 40s 5%Spandex | ~ 180 gsm | TS-PTV 164 |
| Single Jersey 95%Cotton 5%Spandex | ~ 250 gsm | TS-PTV 178 |
| Single Jersey 95%Cotton Organic 5%Spandex | ~ 220 gsm | TS-PTV 297 |
| Single Jersey 95%Micro Modal 5%Spandex Black | ~ 165 gsm | TS-PTV 306 |
| Single Jersey 95%Modal 5%Spandex | ~ 170 gsm | TS-PTV 149 |
| Single Jersey 95%Polyester 5%Spandex | ~ 200 gsm | TS-PTV 122 |
| Single Jersey 95%Polyester 5%Spandex (Melange) | ~ 170 gsm | TS-PTV 104 |
| Single Jersey 95%Polyester 5%Spandex (Neon color) | ~ 180 gsm | TS-PTV 121A |
| Single Jersey 95%Rayon 5%Linen | ~ 145 gsm | TS-PTV 171 |
| Single Jersey 95%Viscose 5%Spandex | ~ 210 gsm | TS-PTV 339 |
| Single Jersey 95%Viscose MVS 5%Spandex | ~ 185 gsm | TS-PTV 250 |
| Single Jersey ABT-1003 85%Cotton 10%Polyester 5%Spandex | ~ 185 gsm | TS-PTV 300 |
| Single Jersey ABT-1037 53%Cotton 42%Polyester Siro Slub 5%Spandex | ~ 195 gsm | TS-PTV 299 |
| Single Jersey big Stripes 100%Cotton Slub | ~ 160 gsm | TS-PTV 191 |
| Single Jersey Burn-out 60%Cotton 40%Polyester | ~ 110 gsm | TS-PTV 230 |
| Single Jersey Burn-out Stripes 70%Polyester 30%Cotton | ~ 140 gsm | TS-PTV 248 |
| Single Jersey Burn-out Stripes 70%Polyester 30%Cotton | ~ 140 gsm | TS-PTV 249 |
| Single Jersey Burn-out 60%Cotton 40%Polyester | ~ 110 gsm | TS-PTV 244 |
| Single Jersey Burn-out 65%Polyester 35%Cotton | ~ 120 gsm | TS-PTV 129 |
| Single Jersey Burn-out 65%Polyester 35%Rayon | ~ 130 gsm | TS-PTV 246 |
| Single Jersey Compact 92%Cotton 8%Spandex | ~ 230 gsm | TS-PTV 341 |
| Single Jersey COMSOL 60%Cotton 40%Polyester 40s/2 | ~ 250 gsm | TS-PTV 281 |
| Single Jersey CVC F-Effect 60%Cotton 40%Polyester | ~ 140 gsm | TS-PTV 247 |
| Single Jersey INJ 60 48%Rayon 42%Cotton 5%Polyester 5%Spandex | ~ 180 gsm | TS-PTV 280 |
| Single Jersey Jacquard 62%Polyester 33%Cotton 5%Spandex | ~ 160 gsm | TS-PTV 165 |
| Single Jersey Jacquard 65%Polester 35%Cotton | ~ 180 gsm | TS-PTV 185 |
| Single Jersey Jacquard 95%Viscose OE 5%Spandex | ~ 245 gsm | TS-PTV 313 |
| Single Jersey Jaspe 60%Cotton 40%Polyester | ~ 160 gsm | TS-PTV 207 |
| Single Jersey JQD Melange Stripes 60%Polyester 35%Cotton Slub 5%Spandex | ~ 200 gsm | TS-PTV 345 |
| Single Jersey JQD Stripes 60%Polyester 35%Cotton Slub 5%Spandex | ~ 195 gsm | TS-PTV 346 |
| Single Jersey Melange 2275 95%Viscose 5%Spandex | ~ 180 gsm | TS-PTV 182 |
| Single Jersey Silver Sparkling 98%Cotton 2%Polyester | ~ 160 gsm | TS-PTV 210 |
| Single Jersey Siro TC 48%Polyester 47%Cotton 5%Spandex | ~ 160 gsm | TS-PTV 265 |
| Single Jersey Slide Viscose/Polyester/Spandex | ~ 160 gsm | TS-PTV 100 |
| Single Jersey Slub 50%Rayon 50%Polyester | ~ 140 gsm | TS-PTV 179A |
| Single Jersey Slub 60%Cotton 40%Polyester | ~ 160 gsm | TS-PTV 179 |
| Single Jersey Slub 65%Polyester 35%Rayon | ~ 130 gsm | TS-PTV 239 |
| Single Jersey Slub 95%Polyester 5%Spandex | ~ 180 gsm | TS-PTV 234 |
| Single Jersey Slub Jaspe 60%Cotton 40%Polyester | ~ 160 gsm | TS-PTV 208 |
| Single Jersey Slub Stripes 60%Cotton 40%Polyester | ~ 150 gsm | TS-PTV 217 |
| Single Jersey Slub Stripes Rayon/Polyester/Spandex | ~ 210 gsm | TS-PTV 328 |
| Single Jersey Space0010L Brushed 95%Polyester 5%Spandex | ~ 180 gsm | TS-PTV 158 |
| Single Jersey Space0074N Brushed 62%Cotton 33%Polyester 5%Spandex | ~ 200 gsm | TS-PTV 159 |
| Single Jersey Special Melange 58%Cotton 37%Polyester 5%Spandex | ~ 170 gsm | TS-PTV 251 |
| Single Jersey SPG 2034 90%Polyester 5%Rayon 5%Spandex | ~ 190 gsm | TS-PTV 284 |
| Single Jersey SPG 2034 90%Polyester 5%Rayon 5%Spandex | ~ 190 gsm | TS-PTV 284A |
| Single Jersey SPG 8556 90%Rayon 5%Polyester 5%Spandex | ~ 165 gsm | TS-PTV 279 |
| Single Jersey SR 8566 90%Rayon 5%Polyester 5%Spandex | ~ 180 gsm | TS-PTV 283 |
| Single Jersey Stripes 100%Viscose OE | ~ 150 gsm | TS-PTV 198 |
| Single Jersey Stripes 48%Polyester 47%Rayon 5%Spandex | ~ 170 gsm | TS-PTV 188 |
| Single Jersey Stripes 50%Cotton 50%Polyester | ~ 155 gsm | TS-PTV 89 |
| Single Jersey Stripes 50%Viscose Melange 45%Polyester 5%Spandex | ~ 170 gsm | TS-PTV 128 |
| Single Jersey Stripes 60%Cotton 35%Polyester 5%Spandex | ~ 170 gsm | TS-PTV 108 |
| Single Jersey Stripes 60%Polyester 25%Rayon 15%Linen | ~ 150 gsm | TS-PTV 189 |
| Single Jersey Stripes 60%Polyester 25%Rayon 15%Linen | ~ 130 gsm | TS-PTV 192 |
| Single Jersey Stripes 62%Polyester 33%Cotton 5%Spandex | ~ 200 gsm | TS-PTV 177 |
| Single Jersey Stripes 80%Cotton 20%Polyester | ~ 155 gsm | TS-PTV 88 |
| Single Jersey Stripes 80%Viscose 15%Polyester 5%Spandex | ~ 180 gsm | TS-PTV 99A |
| Single Jersey Stripes 95%Cotton 5%Polyester | ~ 180 gsm | TS-PTV 93 |
| Single Jersey Stripes 95%Cotton 5%Spandex | ~ 160 gsm | TS-PTV 161 |
| Single Jersey Stripes 95%Viscose 5%Spandex | ~ 200 gsm | TS-PTV 103 |
| Single Jersey TH 95%Viscose OE 5%Spandex | ~ 235 gsm | TS-PTV 337 |
| Single JerseyJacquard 85%Rayon 10%Polyester 5%Spandex | ~ 170 gsm | TS-PTV 342 |
| Thick Ponte Roma (Heather Grey) 80%Polyester 16%Rayon 4%Spandex | ~ 365 gsm | TS-PTV 160A |
| Thick Ponte Roma 80%Polyester 16%Rayon 4%Spandex | ~ 365 gsm | TS-PTV 160 |
| Waffle 100%Cotton | ~ 200 gsm | TS-PTV 231 |
| Waffle 70%Cotton 25%Rayon 5%Spandex | ~ 240 gsm | TS-PTV 253 |
| Waffle 95%Cotton 5%Spandex | ~ 200 gsm | TS-PTV 94 |
| Waffle CVC 60%Cotton 35%Polyester 5%Spandex | ~ 180 gsm | TS-PTV 94A |
| Waffle Stripes 50%Cotton 25%Polyester 25%Rayon | ~ 160 gsm | TS-PTV 232 |
Home
Women Clothing Factories
Mens Sportswear Factories
Children Clothing Factories
Fabric Factories
Sublimation Printing Factories
Apparel Trade Shows
Free Trade Agreements
ODM/PLM Factories
Flatlocking
Email:
[email protected]
Skype ID:

Chris36walker

Mailing Address:
Hoang Anh Gia Lai Apartments
Block A Apt. 01-03
37 Nguyen Van Huong
Thao Dien, Quan 2, Ho Chi Minh 700000
Phone:
Attention: