How Can I Serve You in Vietnam?
Hi, I built this webpage to promote Xuan Hoa sewing factory based in Ho Chi Minh City. They are a women clothing manufacturer in Vietnam. I can introduce you to them and many other women clothing manufacturers.
My name is Chris, I have been working in the Vietnam Garment Industry since 2008. My expertise is
advising fashion start-ups
and sourcing factories. If you have any questions about a women clothing manufacturer then
contact me here.
Chris Walker
Ho Chi Minh City, Vietnam
VSource Co., Ltd.
Sewing Services of Xuan Hoa Women Clothing Manufacturer
Xuan Hoa is very good at sewing ladies woven jackets, dresses, skirts, pants, and blouses. The excel at tailored dresses made with heavy ponte roma fabric or tea dresses (wrap dresses) made with bubble crepe fabric. They can sew the dresses using solid colored fabric that matches your Pantone color or they can produce printed fabric that matches your artwork file. Most of the dresses they do are not lined but if you need lining they can accommodate. Contact Xuan Hoa women's clothing manufacturer in Vietnam.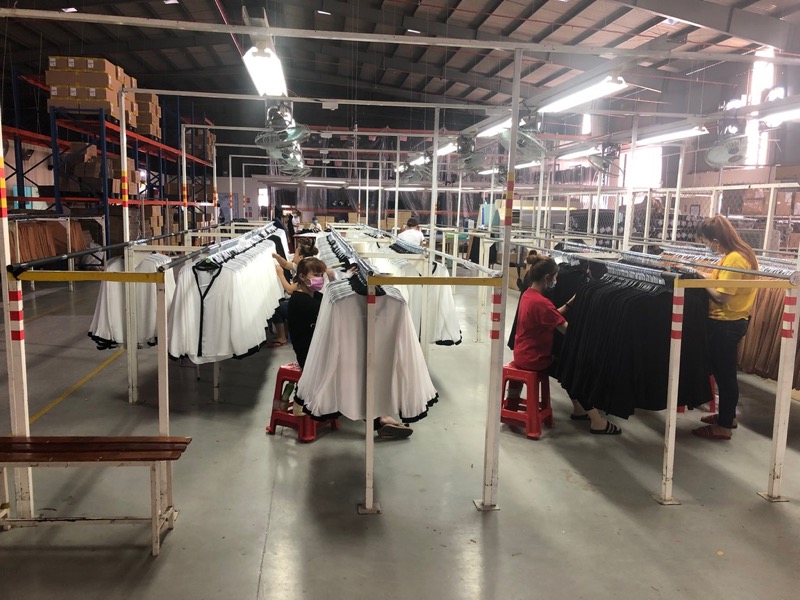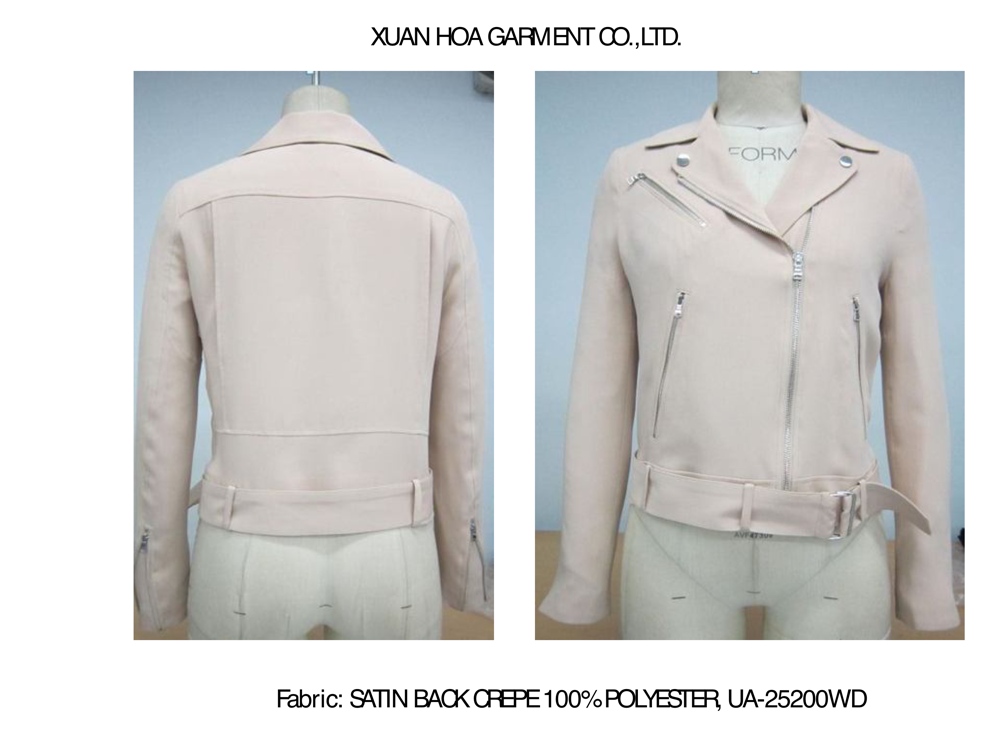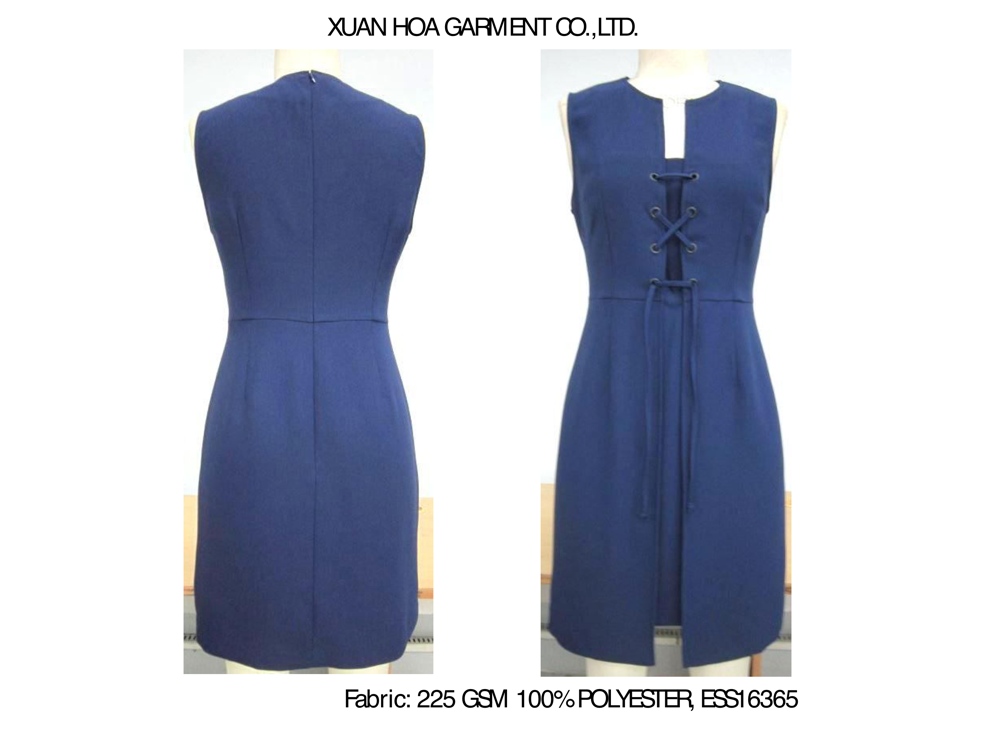 One of the first questions they will ask when you talk about sewing quality and price is, what is the function of the garment? They want to know if the style is a fashion style that requires a high level of perfection and quality accessories, or, is it a basic fashion item to be worn at the office. True fashion items require a higher attention to detail and more complicated sewing techniques that command a higher price point. If you can sacrifice details and features because your garment is for office use then they can hit a lower price point. It is important to establish your sewing standard early in price negotiations.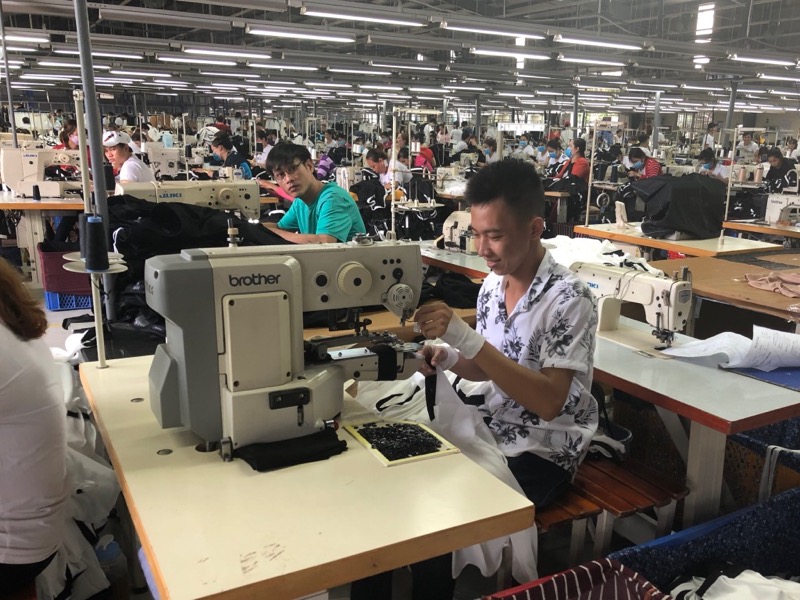 They have all the standard sewing equipment as well as a few special machines. They have 200 computerized single needle sewing machines. They have 12 Juki computer-controlled, high-speed, bar tacking machines. They have 10 computer-controlled, high-speed, lock stitch button –holing machines. They have 10 computer-controlled, high-speed, Lock stitch button-sewing machines. They have three fabric inspection machines. They have one heat and steam shrinking machine. They have 2 piping cutting machines. They have 3 welt pocket machines. And they have 3 template cutting machines.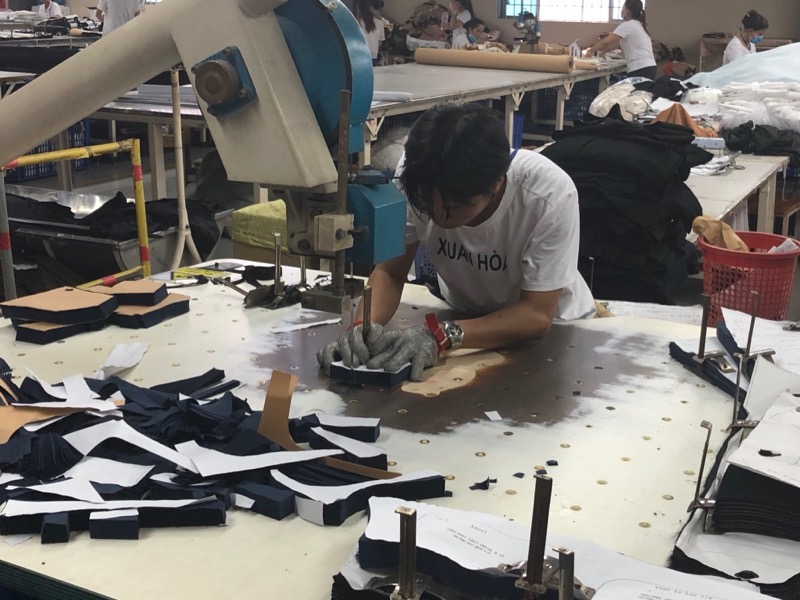 Read -> Learn -> Then contact the factory.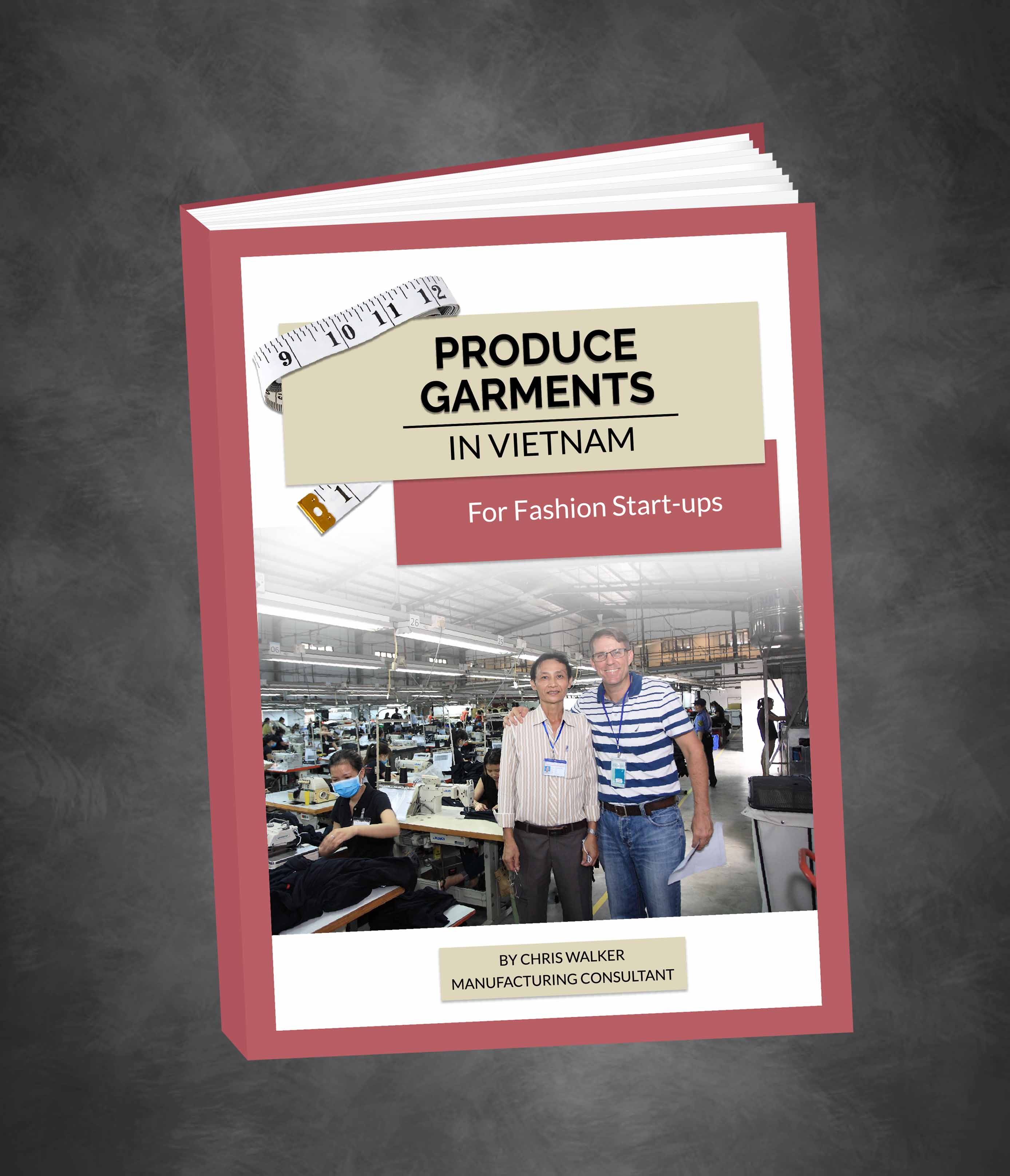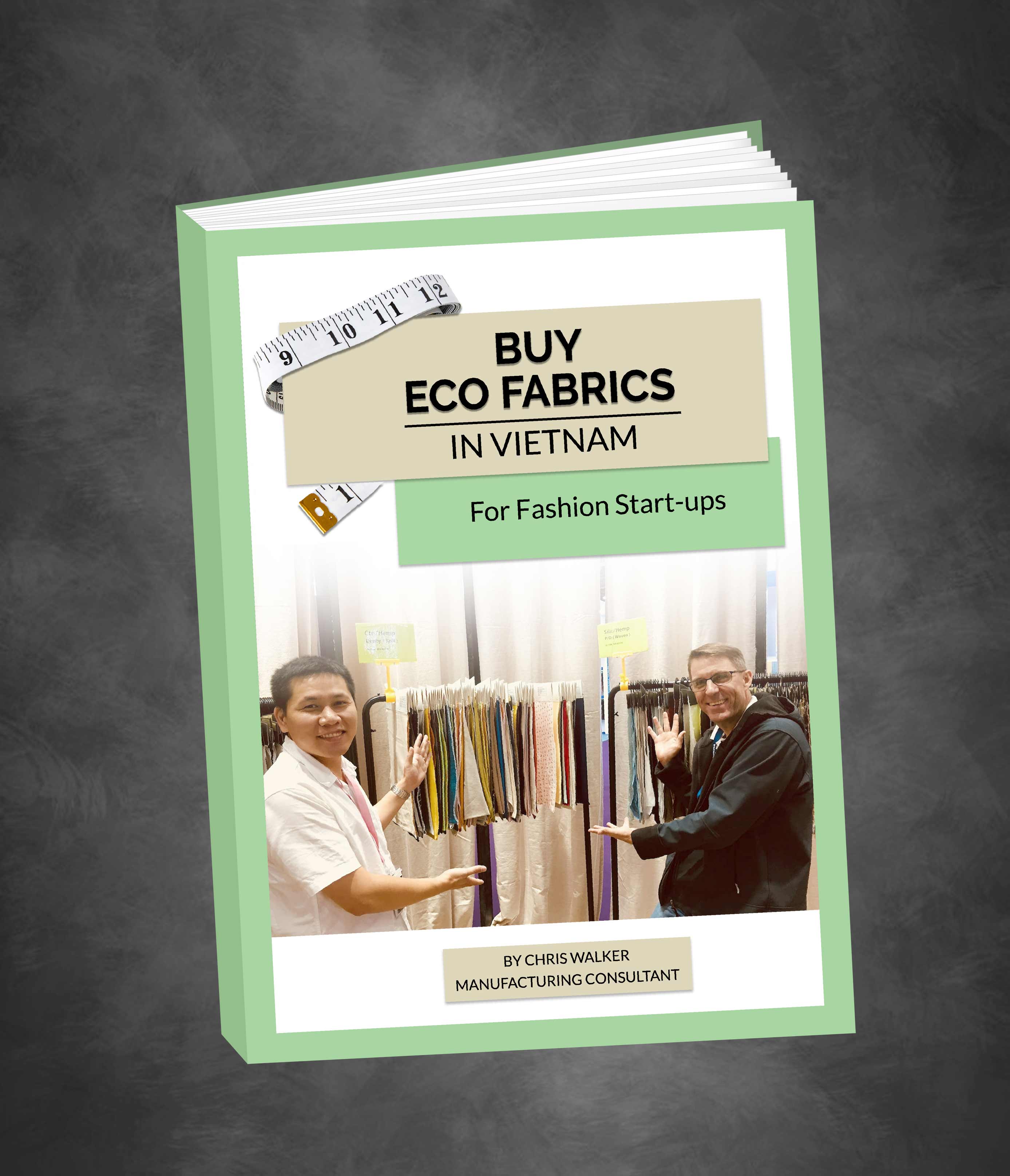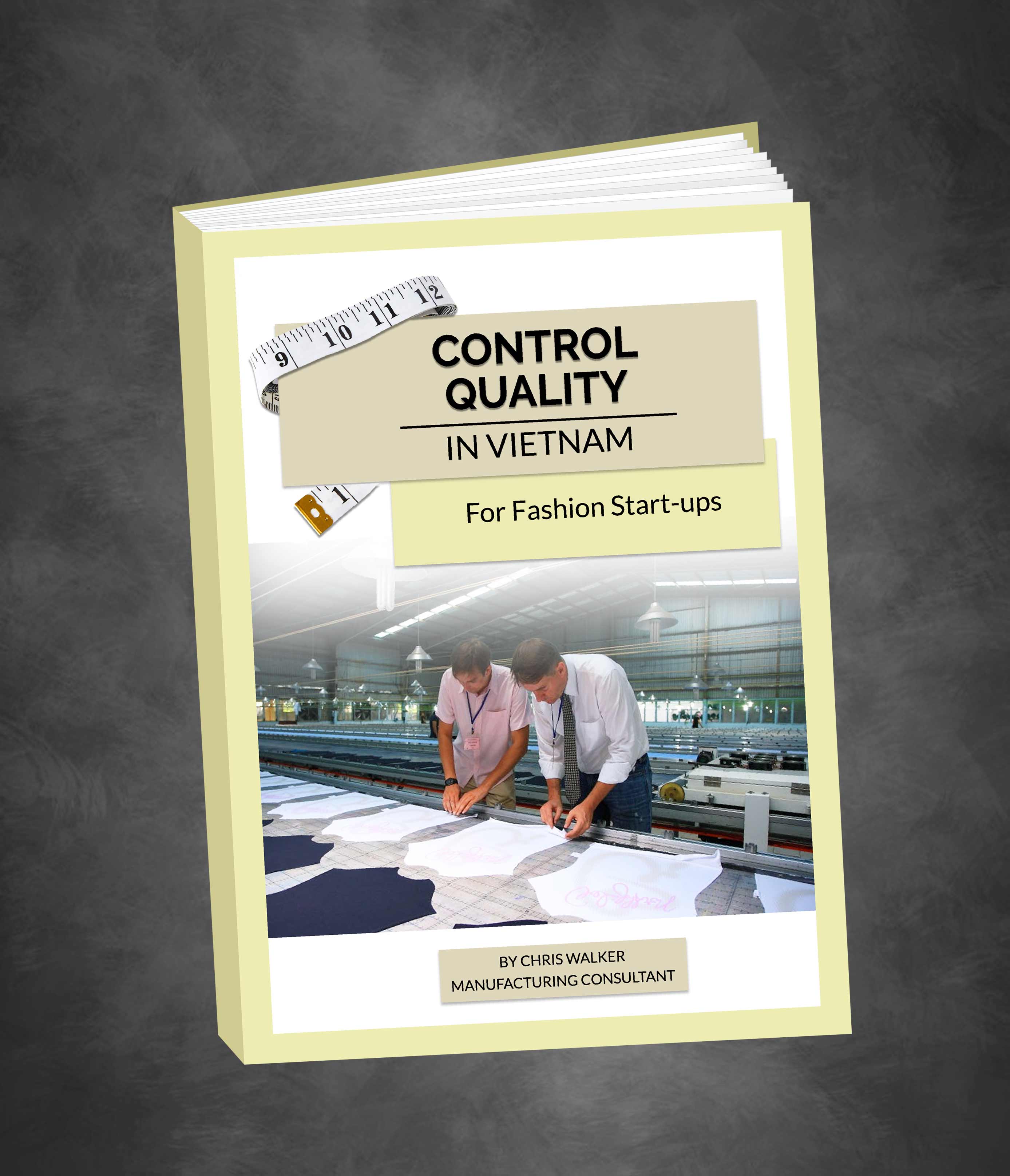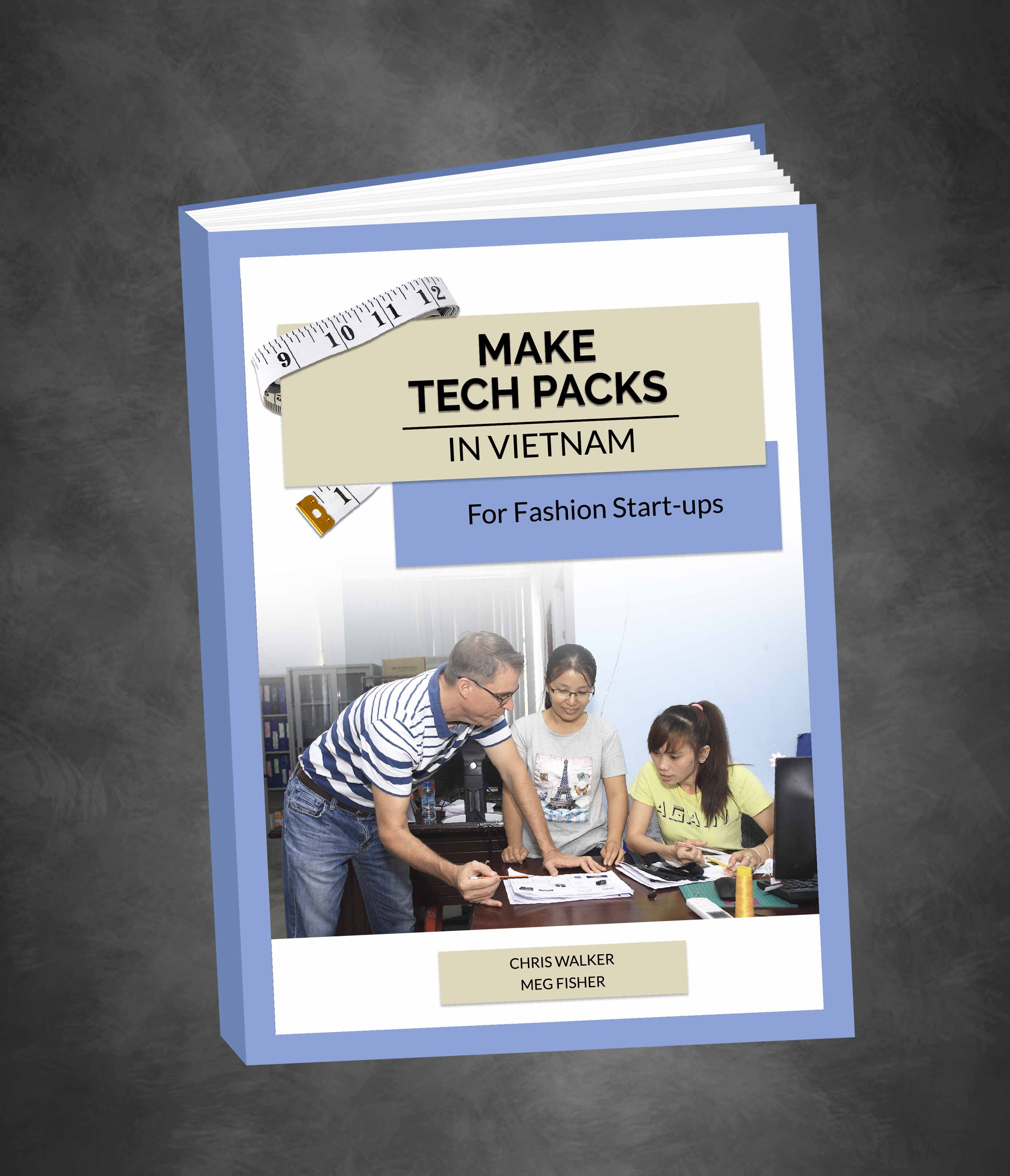 I wrote these books during my first few years
(@ 2008) working in the Vietnam garment industry. I write about basic knowledge and insider tips that I learned - to share with you.
If you are just starting out and need a jump start then I recommend you read my books before contacting factories.
For example, it is critical to know basic things like what is the difference between woven and knit fabric; what is different about viscose, rayon, tencel, modal and hemp; and what is the Acceptable Quality Level system?
All the button holers and button attachers are Juki machines which are twice as expensive as the competition. Xuan Hoa emphasized the need to ensure that buttons don't easily pull off and that the hole is clean which means that the blade that opens the button hole does not knick any of the button hole threads. A dirty button hole is one where the button hole threads start to unravel after one or two washes.

Their sewing efficiency is very high because they pay by piece-rate which means that the sewers are paid based on the successful completion of sewing one garment. Once a new staff realizes that each job well done is a "pay" they discipline themselves to make every action they perform, performed perfectly. Xuan Hoa pays significantly higher piece-rate and consequently Xuan Hoa rarely has an absent worker. If one worker is absent then the whole line team takes a significant hit on their pay for the day. Each line is a team and each team has a collective hourly output and return rate which is used to calculate their collective salary. The final QC team which is independent of the sewing line teams does not get paid by piece rate. They are paid fixed salaries and get bonuses depending on negative feedback from customers after shipment.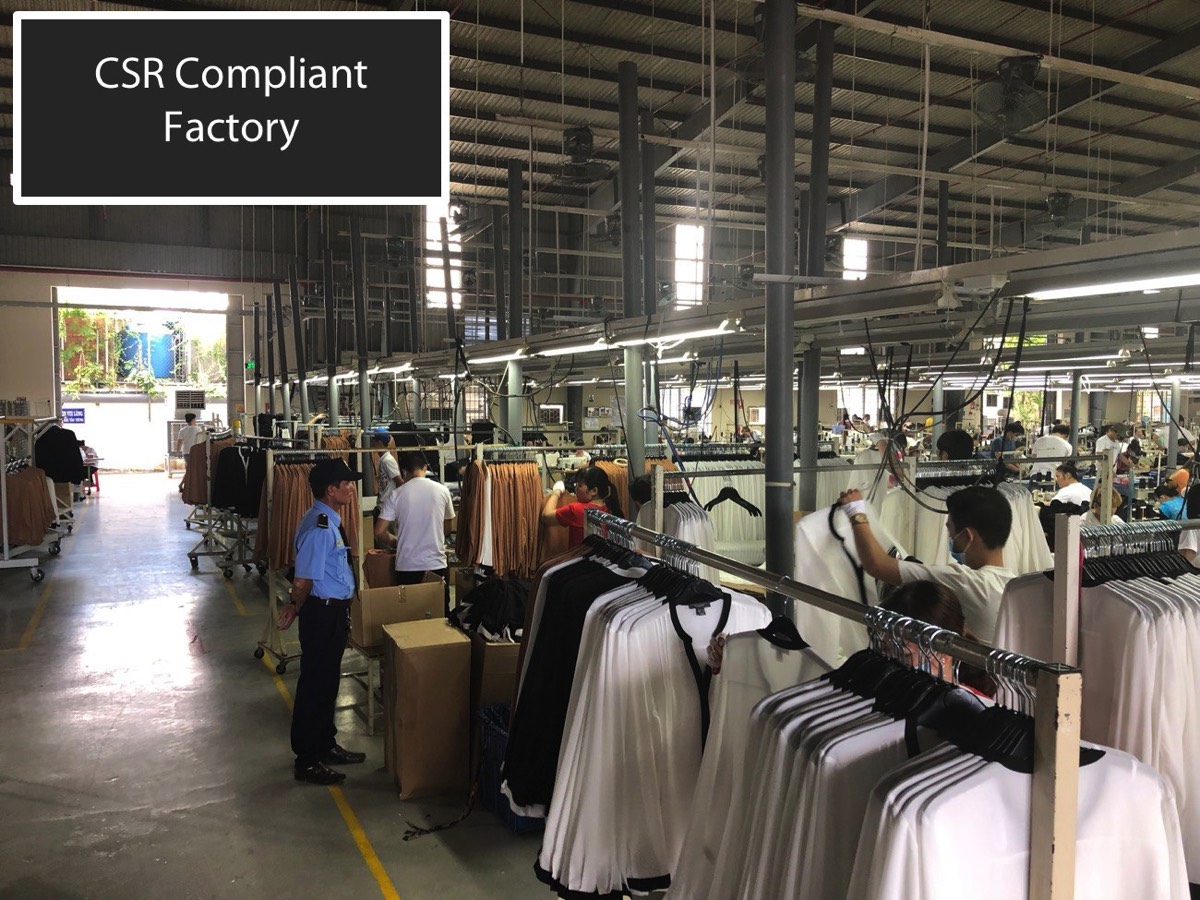 Please give me details about your background and manufacturing objectives.

1. Which styles do you want to manufacture first?
2. Do you have tech packs?
3. Do you have any special factory requirements?
4. Have you produced before? If yes, then in what country?
5. What quantity per style per color do you order?
6. Does your company have a website?
7. Do you want to work with an agent or directly with the factory?
8. Do you plan to visit Vietnam?
Apparel Production Advice
Sewing Factory Introductions by Email
Garment Factory Visits
Tech Pack and Sample Creation
Fashion Start-up Business Planning
Consulting


I listen to your needs and suggest solutions. I explain production issues related to Vietnam like meeting minimum order quantities, getting samples made, negotiating price and arranging shipments. I can provide guidance to improve quality, increase productivity and meet social and environmental compliance for the factories you work with. I can also give business and legal advice for setting up a factory or office in Vietnam.
Factory introductions by email


1. I note your product details
2. I note your factory requirements
3. I confirm three factories that meet your needs
4. I introduce you directly to the factories
5. I stand by to help you in case there are any communication problems
Factory visits


I can take you there. I arrange meeting times, transportation and accommodation. I choose the quickest routes to visit 3-4 factories in a day. When we arrive, you will work directly with the factories. I speak Vietnamese and will help with translation if needed.
Get a price quote


If you don't want to travel to Vietnam then I will work with the factory on your behalf to get an initial price quote. You will be CC'd in all correspondence so the costing process will be transparent. Once the initial costing is done, you can work directly with the factory or I can continue to help if needed.
Quality control


I provide quality control services that include pre-production meetings, inline inspections and final inspections.
Design and merchandising support


I can assist you with sourcing raw materials and accessories. My team can assist with design improvements. We can manage sampling and shipping to get samples to you for approval as quick as possible.
Factory assessments


I can perform social and environmental compliance audits. I provide you with a written comprehensive report with pictures and suggest a corrective action plan.
Staff recruiting


I can find qualified staff to work for you in Vietnam. I create a one month advertisement on vietnamworks.com. I choose the top 3 candidates and interview them. I share my evaluation with you and arrange interviews for you to make the final selection.
Hosting


I have a dedicated hosting area where your staff can work. I provide internet, air conditioning, shared meeting room, shared kitchen, security, and parking.
Mens sportswear garment supplier
Can you believe that activewear is still popular and growing? Are you sourcing a mens sportswear garment supplier or women's? I know many apparel manufacturers in Vietnam is making sports apparel.

First challenge is sourcing quality polyester spandex fabric that has moisture wicking properties.

Second challenge is finding quality printing and embroidery that can withstand the rigor of sportswear.

Third challenge is finding a mens garment supplier that has flat lock machines so that tight fitting activewear does not rub against the skins and cause discomfort.

I can introduce you to mens sportswear garment suppliers in Vietnam. Let's schedule a Skype chat to find solutions to your business plan in Viet Nam.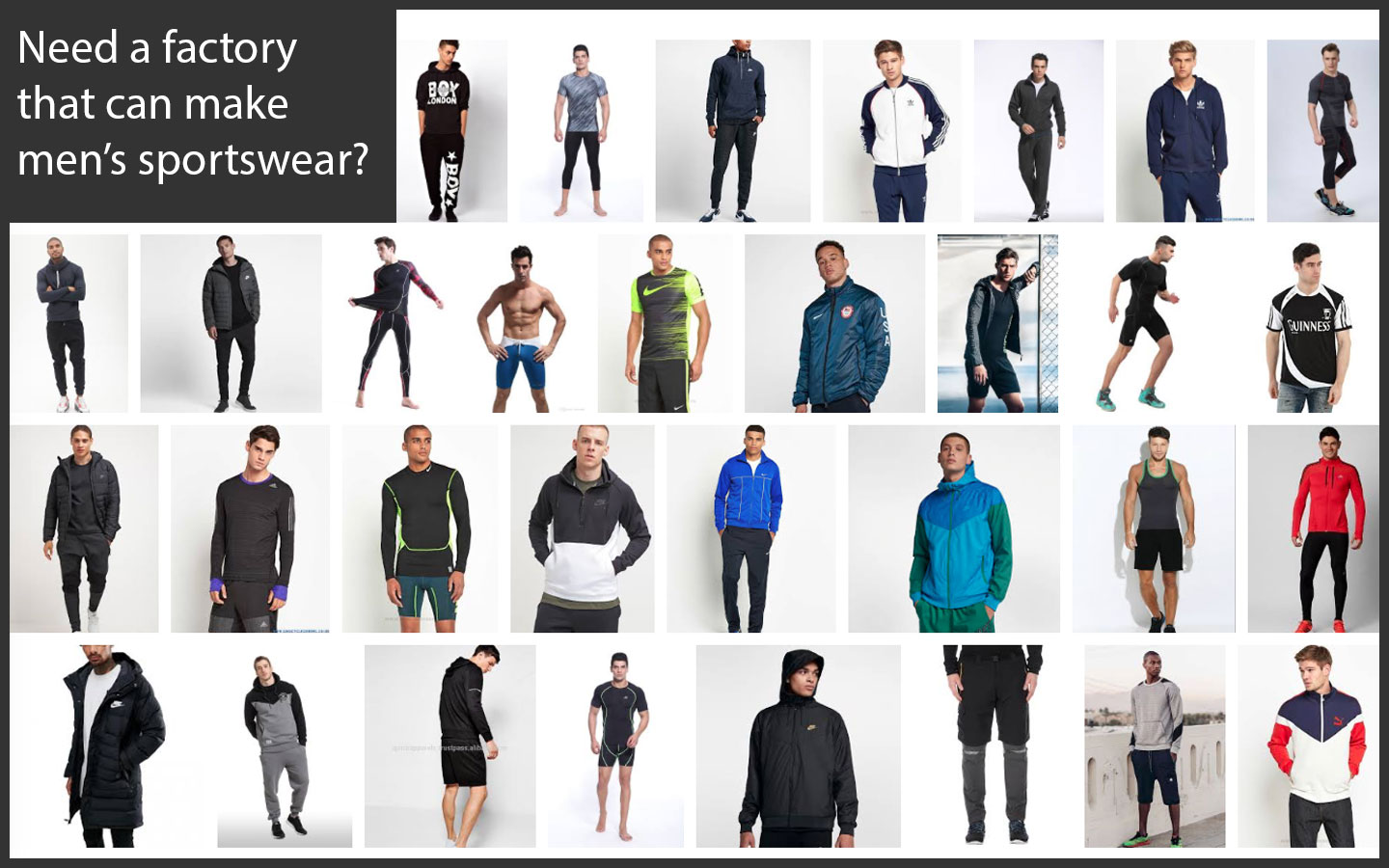 Why did you search for mens sportswear garment supplier?
I am interested to hear your story. Are you a start up or experienced sourcing professional? What country are you currently producing in? Have you considered local production? If your quantity is less than 1,000 pieces per style per color then I recommend producing locally first. If you are dead set on Vietnam, then I can introduce you to mens sportswear garment suppliers in Vietnam.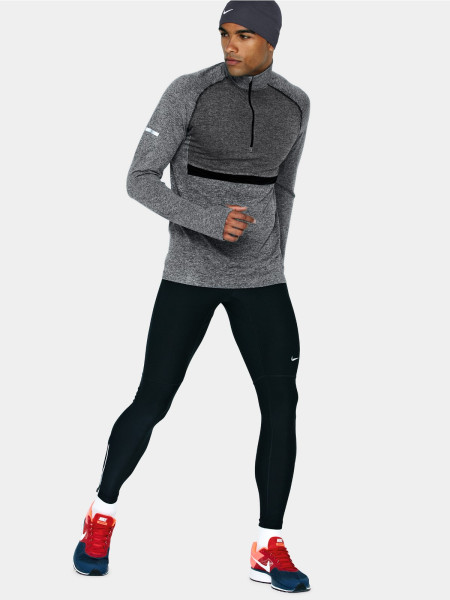 As a mens sportswear garment supplier, Thai Son produces their own knitted jersey in Vietnam as well. They are always working with new fabric and trying new sewing techniques. If you need difficult prints, they know the best printing suppliers in HCMC to get the quality you want. If you have special dying instructions, they know the best dying companies in Ho Chi Minh City. They aim to be the best in customer service in order to establish repeat customers.


Are you searching for a mens sportswear garment supplier in Vietnam? Thai Son has experience with sportswear and casual wear. They have flat lock machines for flat seaming. They can source tri-blended fabrics and offer various fabric functions like moisture wicking and anti-bacteria.

Finn Flare is a men's and women's brand who we have been producing in Vietnam for more than 10 years. They have a leading position in the Russian apparel market in the price range "average plus" and is included in the top five. Their retail chain has more than 100 stores in Russia and Kazakhstan. They use knitted jersey in Vietnam for their knitwear garments for men. They use a lot of cotton viscose fabric for ladies styles.
Vietnam is good making basic sports styles too!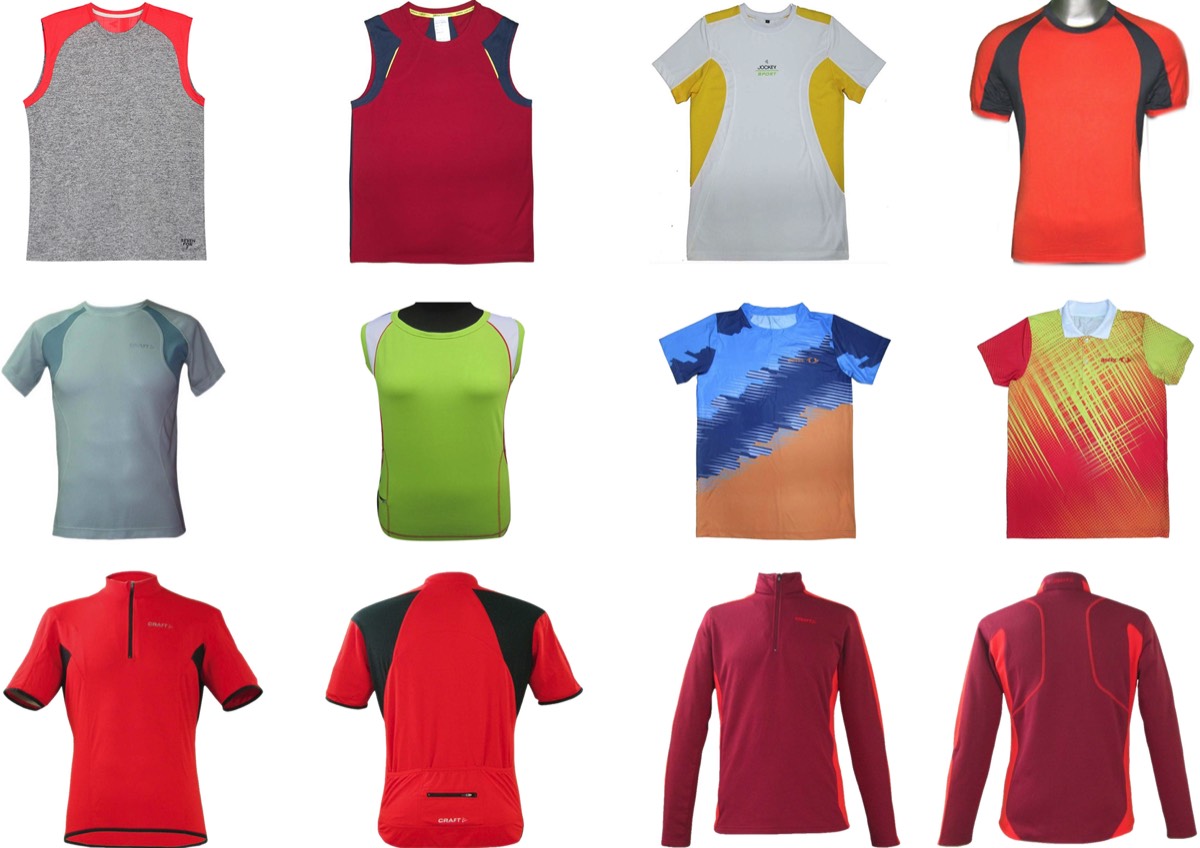 Warm up suit jackets made in Vietnam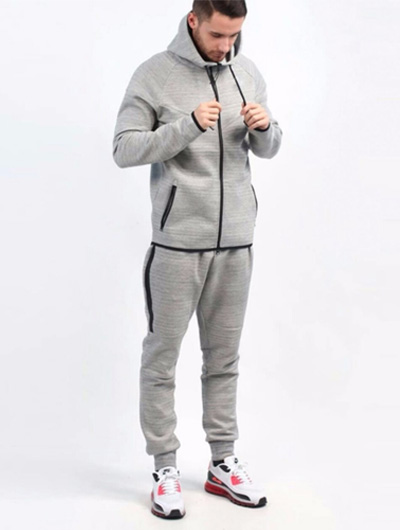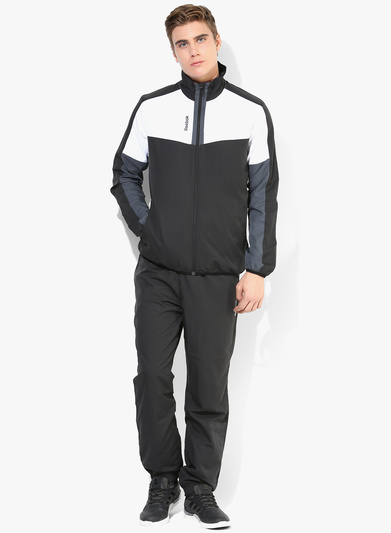 How to find your import duties from Vietnam to USA
Step 1 is to figure out what is the HS Code of your product. Step 2 is to look up your HS Code in the Harmonized tariff schedule. You will see the duty rate listed next to your HS Code. Done. Sounds easy right? Like putting socks on a rooster. The safest thing to do is hire a certified customs broker who classifies many products every day. The problem is, customs brokers will only do a classification for you if you are a lucrative client shipping containers on a regular basis. That's how they make their living. So what can you do? Sail out into the open ocean yourself, do your own classification, let me chart the way for you.

First thing you need to keep in mind is that when your goods get to the USA port, it's the US Customs and Border Protection (CBP) officer that will either approve or disapprove the HS Code classification declared on the shipping documents. Their job is to make sure you pay the right import duty. If the CBP decides your classification is wrong then you risk delaying the delivery of your goods and being labeled as an offender which could delay future shipments. You will have to pay the remaining tax to get your goods released. If you are caught incorrectly classifying your product, your certified customs broker who made the classification for you, has their neck in the guillotine too. They can have their license revoked and be out of work if they are caught multiple times classifying products with low taxes. The broker can petition the decision to save their neck but they waste time petitioning and time is money - lost.

Here is what the classification hierarchy of round grain husked rice looks like.

Try yourself. It will take you 10 minutes. I will show you exactly what to do. Some products are straight forward and easily classified.

1 Go to this CBP webpage and download the Full Document of the Harmonized Tariff Schedule. https://hts.usitc.gov/current
2 Search pdf document for Husked (brown) rice and you will see the duty rate.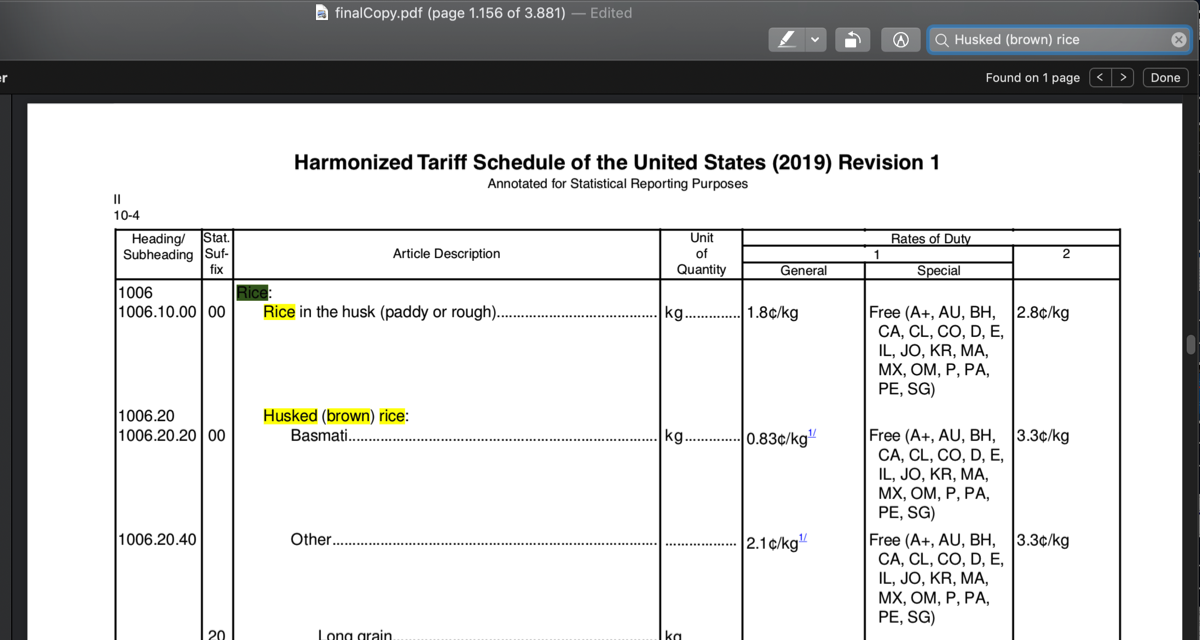 In fact it is not that easy for most products because most products are composed of different materials. For example a t-shirt that made with cotton, viscose and spandex or a piece of furniture with metal, wood and plastic. It takes experience to know which classification yields the lowest duty rate and will be accepted by the CBP. Also, do you see the column labeled "special?" Figuring out how to benefit from he "special" takes time and know-how. This is the reason I recommend you hire a licensed customs broker to help you out.
There are 14,454 active licensed Customs brokers in the United States. They must pass an open book test with 80 multiple-choice questions testing their knowledge of The Harmonized Tariff Schedule of the United States (HTSUS), Title 19, Code of Federal Regulations, Specified Customs Directives and Customs and Trade Automated Interface Requirements document (CATAIR). If you can't find one to help you then you can also tap into the CBP resources.
This website provides U.S. merchandise trade and tariff data in a user friendly web interface.
https://dataweb.usitc.gov
You can also request a ruling from the CBP via this webpage:
https://erulings.cbp.gov/home
If you are willing to pay me then I can get the classification done for you.
Please contact me for more information.